Stylized Characters In Blender 3D
Learn to model, rig, texture, and light appealing 3D characters in Blender 3D. Remington a.k.a SouthernShotty on Youtube will teach you his tips and tricks and share his character workflow in Blender.
This course will take you from A-to-Z on Blender characters.
Stylized Characters In Blender 3D
From A-to-Z on Blender Characters
Course Format: On-Demand Training
Skill Level: Intermediate
Software: Blender
Duration: ~4 hours
Assignment: Astronaut Character
Prerequisite: Basic knowledge of Blender interface
Learn to model your 3D characters. This blender course will cover the modeling of our worm rig and astronaut. This way you can start simple before modeling the more complex astronaut. 
Blender shines at rigging these stylized characters. Remington will show you exactly how to rig characters quickly and easily. He'll walk you through the use of bendy bones and weight painting.
Bring your characters out of the greyscale and make them beautiful with your own shaders and UV map. Paint your character details directly in Blender and move quickly into lighting with real time rendering.
Learn to create appealing and stylized character in Blender. After this course you'll go from pencil sketch concepts to fully modeled, rigged, textured and lit characters.
This intermediate course is all about learning to create original Stylized Characters in Blender 3D. Watch this full lecture of the workshop down below.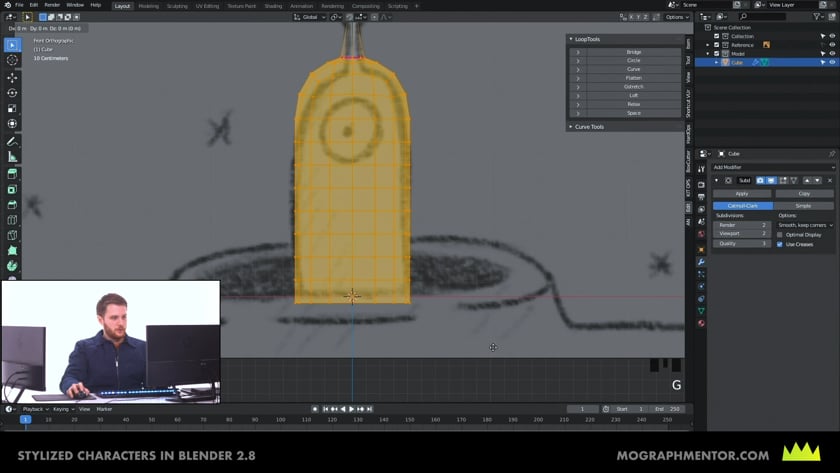 What do our students say?
Very helpful tips about creating simple characters. Texture and Rigging were my favorite chapters.
Very interesting explanations on rigging. Also, the materials setup was very useful.
Great! Covers everything.
I started learning blender a few months ago and I had zero knowledge about rigging and weight painting. I liked the structure of the course and the way it was taught. It was fun.
Creative Director & Animator
I'm a motion design: art director, animator, and illustrator with a love for all things 2D and 3D. When I'm not working with clients, I am a creative director at MoGraph Mentor. It's a blessing to be part of the motion design community. I enjoy teaching others in MoGraph Mentor, Skillshare, and Youtube courses with a focus on character design and animation.
If you catch me away from my computer, I'm probably hiking, volunteering, or traveling with my lovely wife and spoiled dogs.
Clear and concise training
In-depth lectures
Project case studies
Stylized Characters In
Blender 3D
Learn to model, rig, texture and light appealing 3D characters in Blender 3D. This course will take you from A-to-Z on characters in Blender.
Lifetime access & updates
You'll be redirected to our checkout page
Why take Stylized 3d Characters in Blender 3D?
This course is designed to help Blender users who have some experience but want to make more dynamic work. If you want to create appealing, stylized characters like you see in this course then you'll enjoy this workshop!
What will I know by the end?
Modeling, Rigging, Texturing, and Lighting in Blender 3D. We have a character focus in this course but overall you'll learn about using Blender 3D more efficiently.
This 3D characters training is best suited to artists who already have a comfortable grasp of Blender 3D interface. You can find a beginner course here to get your skills up to speed to follow this course comfortably.
Do you provide a license to Blender?
Is there some animation training included in this course?
No. This course focus on modeling, rigging and lighting your characters in Blender 3D. However, we are giving away animated scenes from the characters made in this course.
You can start the course as soon as you enroll in it. Learn at your own pace and go back to previous videos as much as you want.
How long do I have access to the course?
How does lifetime access sound? After enrolling, you have unlimited access to this course for as long as you like – across any and all devices you own.