Handcrafted, drag-and-drop design assets across media types. This Studio Art Asset Pack is for any motion designer who loves that mixed-media style.
– 700+ High-Quality Assets
– Animated Loop
– 11 Media Categories
– Ready for After Effects, Photoshop, and C4D
The Studio Art Asset Pack
Format: Design & Animation Assets
Style: Studio Art
Materials: Watercolor, Inks, Oils, Acrylics, Pastels, Graphite, Charcoal
Number: 701 Assets
Categories: Lines, Shapes, Looping Backgrounds, Complex Marks, etc…
Software Uses: After Effects, Cinema 4D, Photoshop
Elevate Your Mixed Media Design Work
Doing rich and textured, mixed-media designs requires having a ton of assets across media types. This is exactly why we put together this asset pack. Doing this type of design work can require doing all the painting, sketching, scanning and processing for each element. That, or, searching through a large database of stock elements in one of the larger directories. 
With this Studio Art Asset Pack we hope to save you time, money and headaches that come with creating mixed-media projects. We save you the time and messy cleanup of having high quality studio art assets.
Just download the assets and you're ready to start creating.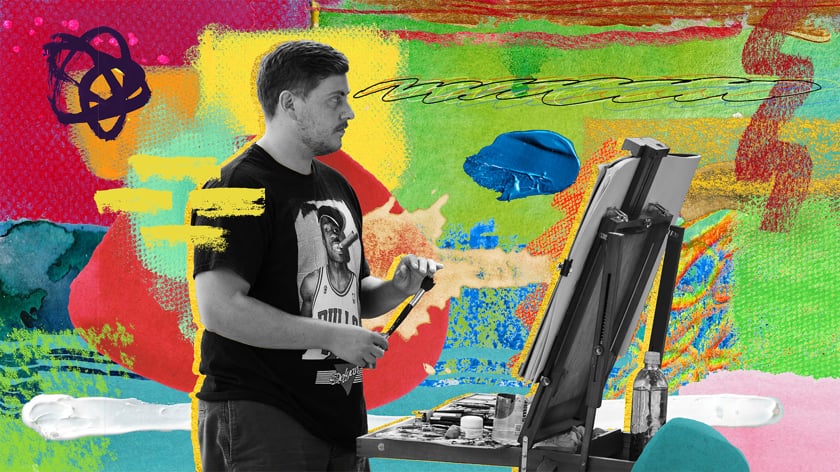 Acrylic paint is a fast-drying paint made of pigment suspended in acrylic polymer emulsion. This creates a thicker look than inks and often has different visual dynamics than thinner media-types.
Studio art usually starts with graphite or charcoal in some form. Whether it's an under drawing for a painting, or a value study using blocky shapes, these are foundational media-types for studio artists. 
A less common media type, but a very interesting one, gold ink. This media often creates highly detailed, textured and unique marks.
Our water inks are assets with color still in the file.  This will allow artists to create complex designs that capture water-based inks in color.
With assets in our black ink category, artists will be able to create a high-contrast look while still capturing the organic feel of water-based inks.
With watercolor assets, artists will be able to create beautiful compositions that contain the complex texture only water-based media can achieve.
A series of over 100 elements with white ink, on black paper. We scanned and separated the assets and feel it resulted in a unique set of assets. 
With these assets, you can capture the textured nature of pastel while maintaining that muted tone that only pastel can produce.
Lines, shapes, and complex marks make up our Pen category. Perfect for simple design elements that have an added, hand-made feel.
85 Animated Texture Loops
Animated texture loops are useful for Motion Designers. You can drag and drop a texture loop into After Effects and use it as a background texture, or along side an alpha matte to add more texture and motion to an existing design. With this in mind we built loops across a number of media types. 
Watercolor Loops
Colored Pencil Loops
Graphite Loops
Charcoal Loops
Black Ink Loops
Acrylic Loops
Marker Loops
Pen Loops
The idea with these loops was to make unique styles that reflect the tradition of Studio Art and mixed media. Each of the loops can be used in your projects right out of the box, or can be tweaked with color styles and color correction adjustments. Bring some grit and texture into your animations with these animated loops.
Enhance your motion design projects now​
High Quality Design & Animation Assets
Studio Art Assets
11 Media Types
Drag-and-Drop
Lifetime access
Studio Art
Assets Pack
700+ Design Assets Across Media Types
Lifetime access & updates
You'll be redirect to our checkout page
Why purchase the Studio Art Asset Pack?
This product is a collection of over 700 assets that can be used as design elements, textures, or looping backgrounds. Motion Designers often need assets to work with so we designed this asset pack with them in mind.
How Many Elements Are Animated?
Only the "75 Loops" are animated. Everything else in the asset pack is a still image (PNG) with an alpha channel. 
What Productions Can I Use It IN?
Any and all productions. Purchasing the Assets Pack gives you a license to use these elements in an unlimited number of personal and professional projects.
What Are The File Formats?
PNG's are the main file type in this asset pack. This worked best for extracting and using these scanned marks, lines and loops.
Can I Use These Elements In C4D?
Some of the assets, mainly lines or complex marks, will be useful in C4D. However these assets are not 8K textures, which would be required for ultra-high resolution production processes.
How long does the license Last?
Forever. Buy the asset pack and you're set for life on an extended license.